Kathy Perry was the Keynote Speaker at the Connected Art Book Conference in Grand Rapids, Michigan last weekend.
Her Topic was: Enhancing Life Experiences – thru the Art of Social Connections, Spirituality & Energy Empowerment

Do you ever feel…
*Overwhelmed with all the demands in your life?
*Like you are in a rat-race and the rats are winning?
*That you want make a difference in the world, but don't know where to start?
*That you want to live a more fulfilling life, but just don't know what to do?

If so, then you would have enjoyed being in the audience when Kathy Perry spoke at the Connected Art Book Conference. It was an interactive presentation and Kathy shared her own story of turning personal tragedy into triumph, with simple steps to transformation. Kathy inspired the audience and shared several energy enhancing techniques to assist in living an empowered life.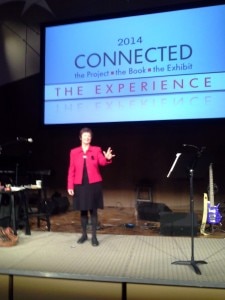 In this presentation, Kathy shared:
*how to step out of the rat-race & quit running on auto-pilot
*breakthrough techniques to get unstuck
*how we are all connected through Social Interaction
*the importance of art in non-verbal Social communication
*how to release stress & live a more fulfilling life
*why a daily self-care practice is critical
*how our spirituality directly impacts our consciousness

Everyone left this presentation with a new understanding of their choice in living in Peace, Joy & Happiness and the benefits of approaching life and business holistically.

For more information about having Kathy speak at your event, contact her at: [email protected] or call at 813-789-9580