I was very honored and excited to be interviewed on the OnFire Ignites Podcast.
Listen in to the 9 minute, rapid-fire 6 question interview here:
https://www.linkedin.com/feed/update/urn:li:activity:6734135776336068608/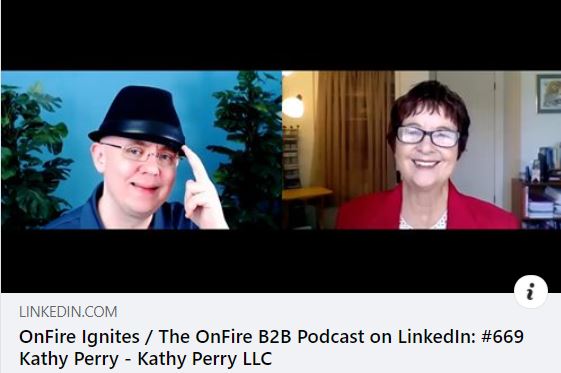 Here is some of the information I shared in the interview:
I'm a Social Media Consultant and Facebook Advertising Specialist. I work with Entrepreneurs & Business Owners to Maximize every dollar spent in Marketing to get more clients and orders, using today's available Social Media Technology at a Fraction of the Cost of Traditional Media, so you don't waste your time or money.
I TAKE THE EEK! OUT OF GEEK and make Facebook Advertising and Social Media Marketing simple and effective.
If people are having difficulty:
~ with trying to generate more leads and sales.
~ are frustrated and overwhelmed with the technology
~ have tried Facebook Advertising in the past and it didn't work.
~ get confused and have difficulty keeping up with all the changes.
~ don't have time and are too busy running your own business to add this to your plate.
~ have tried all types of traditional media and they aren't working for you.
It's very rewarding to be able to assist businesses in an area of their business that they are overwhelmed, stressed or frustrated with – being able to assist in optimizing their social media pages, manage ad campaigns and help create virtual products to generate more leads and sales, while removing their overwhelm, stress and frustration.
One of my clients, June Drennon, CEO of Florida Medical Thermography always uses this quote when talking to other businesses about me: "The thing I love about working with Kathy is, when I come up with some new brainstorm or great idea, she says, 'Let me share with you why that might not be such a great idea.' She saves me time and money!"
Shiney new objects come out every day – don't be fooled. You need a Marketing Action Plan to Target the Right Audience, with the Right Message at the Right Time, so you won't be wasting your Money or Time chasing the wrong audience that isn't even interested in your product or service.
I'm a BrainTrust Member on the Small Business Advocate Radio show with Jim Blasingame and have been on the show for 10 years covering all the latest changes and updates in social media.
I'm a co-author in Stepping Stones to Success with Deepak Chopra & Jack Canfield.
I offer a lot of free downloads on my website under the Products Tab. Enjoy!