The Solution:
 Kathy's Hub Socializer Social Marketing Tree Course is known for taking the fear and confusion out of marketing on the Internet.
www.HubSocializer.com
Hub Socializer Mission:
To Empower, Enable & Extend Viral Brand Communication that Drives Business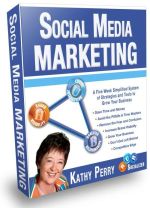 With this Social Marketing Tree System clients are able to increase the visibility of their products and services to their target audience faster, in a more cost effective way and achieve a much greater ROI. The Hub Socializer system assists in understanding and navigating the Internet Marketing and Social Media Maze, saving both time and money.
Kathy offers her Digital Marketing and Social Media Coaching Services through a unique process that reveals gaps in strategic communications. She provides a holistic approach to marketing that goes beyond traditional marketing methodology. Kathy uses the Hub Socializer Social Marketing Tree System in working with clients, to provide an online marketing and social media strategy for their businesses. She has coaching clients throughout the United States, as well as in the Tampa Bay area.
"Someone looking in from the outside always sees things that aren't visible from within."
Kathy Perry